The First Impression of Dust Devils' Grant Little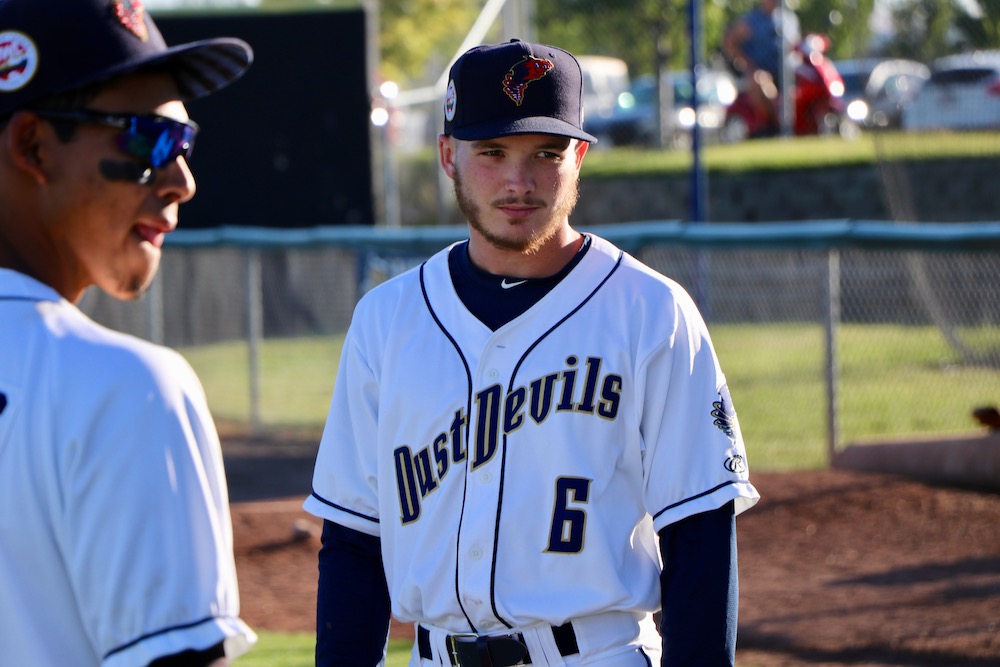 Tri-City, Washington
It was Grant Little's walk-up music that got me.
Now, the vast majority of baseball entrance songs feel generic, trite, forgettable. Typically a hot US or Latin pop song. Maybe a Nashville country lick here and there. A sample from a Kanye or Jay-Z track. Some throwaway metal riff.
But among the sea of gray, there are player entrances that sparkle in their originality, magic, or just plain weirdness.
When they do, it creates some of the most memorable moments at the ballpark. Whether it's Yoenis Cespedes using "The Circle of Life" a few years ago or Josh Reddick playing "Careless Whisper" when he was with the A's, there are a lot of great examples.
Former Dust Devil Charlie Blackmon's "Your Love" stands out to me after going to a Rockies game a few weeks ago.
The PA shut off the song at the last line so the crowd could complete it.
I got chills.
I laugh thinking about a one-time Mariners' closer and his entrance music, the over-the-top intensity of Thousand Foot Krutch's Courtesy Call bringing in sweet-hearted Steve Cishek. Nonetheless, I remember the giddy enthusiasm of Mariners' twitter each time the song played.
Grant Little's walk-up music made me immediately sit up and take notice. A gentle twangy chorus that played when 2018's #74 pick stepped to the plate. It wasn't even in the ballpark of what I'd expect:
"Abilene, Abilene… Prettiest town I've ever seen…"
The song's a tribute to his last couple years playing for the competitive Texas Tech program.
Grant's demeanor contrasts nicely with his walk-up.
He doesn't step to the plate with the casual gentleness of this western small-town homage. Don't get me wrong: there's not some obnoxious swagger to his step, but you can feel the intensity radiating beneath the shade of his batting helmet. And, what's more, you could feel how happy he is to finally be on the professional stage.
Watching him play, I gave a lot of thought to one of Little's teammates, Owen Miller, drafted this year right next to Little. I recall Miller saying in interviews that his goal is always to play "calm and relaxed." Miller's play stays true to this: the surest adjectives for his game are things like "workmanlike", "even-keeled", "steady", "unemotional". Owen seems to show up every night, chip in a double and a base hit, deposit an RBI or two, and call it a night.
Having watched Little play a few games and having viewed a number of videos of his play from Texas Tech, I'd certainly say there's a relaxed level to his play that's actually similar to Miller's, but the difference in his personality seems to pop out here and there.
Contrasting with Owen Miller's "calm and relaxed", Grant Little plays with a level of intensity that means you'll see that emotion show up here and there.
His first professional at-bat shows him let loose in a way that I truly and deeply enjoyed.
In his first at bat, Grant drew a walk.
But stop and imagine this for a bit. He's the last one from his draft class to show up with this team a couple of weeks into the season. He's just left a successful program and college baseball career that just played in the College World Series. And he's his organization's top college pick from the most recent draft. He's dreamed his entire baseball life of getting paid to play the game he loves and in a whirlwind of a few days he signs a contract and is shipped to a town he's never heard of.
This is a moment loaded with a new kind of pressure Little's never felt. And, unlike the rest of his team, it's one he's experiencing this evening _entirely alone_. Nobody else is "the new guy" right now.
So what happens on that first at-bat when Grant draws a walk?
@GLitty04 first pro at bat ends in a walk! #tcdustdevils pic.twitter.com/6b9ZtHgrtY

— Tri-City Dust Devils (@TC_DustDevils) July 2, 2018
That's right. He flipped his bat like he just hit a walkoff home run in the playoffs.
Now, there are folks who criticize the hell out of anyone for flipping their bat or celebrating in baseball, but from my vantage point, baseball could use some more humanity and emotion. And if there ever was a time to celebrate, getting on base in your first pro at-bat is absolutely the right time.
A player's gotta play their personality and I welcome seeing whatever emotion Grant or any other player chooses to exhibit. It's not unsportsmanlike to celebrate. It simply makes the game better.
Grant played it a lot more subdued in his next at-bat when he delivered a solid-stroke RBI single:
Here's the first professional hit for #Padres #2 pick @GLitty04
cc @TC_DustDevils @EVT_News pic.twitter.com/goiFt6aPHs

— ⚾️ Adam Brault (@fantasyworkball) July 2, 2018
What we got to see that first evening has become pretty typical. Grant is off to a solid start, getting on base in each of his games so far. Little has joined Blake Hunt and Owen Miller to provide a steady middle of the order for the Dust Devils, hitting after quality leadoff man Aldemar Burgos.
Owen Miller and Grant Little batted next to each other for most of their games in the Dust Devils' lineup. When Miller and Little slapped back-to-back doubles in a game last week, it seemed easy to imagine them someday batting in order for the Padres, too.
For his background, Grant has legit college chops. As a sophomore, he was named as an All-American by Collegiate Baseball, Baseball America, D1 Baseball, National Collegiate Baseball Writers Association, and Perfect Game.
MLB's prospect profile says this about him:
With Little's simple approach and advanced feel for hitting, he makes consistent hard contact to all fields from the right side of the plate. He has significantly increased his power output as a sophomore and has enough strength and bat speed to provide 30 doubles and 15 homers per season as a pro. He manages the strike zone well and has solid speed on the basepaths.
He's an athletic outfielder who plays without abandon, completely selling out with full body leaping dives like these in left field:
We know the boys from Lubbock can hit, but some of them can even play a little defense. ? #WreckEm pic.twitter.com/scxIznK5iM

— Texas Tech Baseball (@TTU_Baseball) June 18, 2018
Remember that Grant Little diving catch in the 2nd inning? He topped it in the 9th. ?@ESPNAssignDesk, we have you covered for #SCTop10 tonight. #WreckEm pic.twitter.com/Laz9fIXfvl

— Texas Tech Baseball (@TTU_Baseball) May 24, 2018
Remember that Grant Little diving catch in the 2nd inning? He topped it in the 9th. ?@ESPNAssignDesk, we have you covered for #SCTop10 tonight. #WreckEm pic.twitter.com/Laz9fIXfvl

— Texas Tech Baseball (@TTU_Baseball) May 24, 2018
Check out Grant Little as he makes a spectacular #SCTop10 worthy catch to end the seventh inning! #WreckEm pic.twitter.com/du15enEwlp

— Texas Tech Baseball (@TTU_Baseball) March 9, 2018
And crashing into the wall to rob home runs as well:
Grant Little. Grand Larceny. #WreckEm #SCTop10 pic.twitter.com/rMi7G36ekH

— Texas Tech Baseball (@TTU_Baseball) June 22, 2018
Welcome to the Tri-Cities, Grant Little. Hope we make you feel at home here, too.
There aren't any songs about this place though.
(Visited 1,963 times, 1 visits today)