Chargers News: Game Preview (Week 13) Broncos @ Chargers
It took 12 weeks but the San Diego Chargers (3-8) finally picked up their first road win of the season last week in Jacksonville. Philip Rivers was dynamite throwing for 300 yards and 4 TD's on the afternoon, and the young NFL tandem of Manti Te'o and Denzel Perryman wrecked havoc on the Jags. Te'o also had a huge INT at the end of the first half.
The Chargers will now turn their attention to their division rivals, the Denver Broncos (9-2). With their schedule back-heavy with divisional opponents, the Chargers have yet to face the Broncos this year.
Usually preparing for a familiar face in Peyton Manning, the Bolts' defense will look to stop Brock Osweiler; who replaced an injured Manning in the game against the Chiefs three weeks ago. Since then, Osweiler has won both his starts, including the Sunday Night game last week against the undefeated Patriots in OT.
When: Sunday November 6, 1:05 pm PT
Where: Qualcomm Stadium, San Diego, C.A.
Betting: Chargers (+3)
History:
The Broncos-Chargers rivalry is one of the longest, and strongest, in the franchises history. The first matchup took place in 1960 when the (L.A.) Chargers played in Denver and took the first meeting 23-19. They Chargers would win the next three games of the series as well, but the Broncos hold the all-time series advantage 61-49-1.
Chargers' Offense:
Philip Rivers is going to need to find a good chiropractor after this season as he's carried the team's offense on his back throughout the season. He lit up the Jags last weekend to the tune of 300 passing yards, 4 TD's, 0 picks and, maybe the most impressive part, an 8-yard scamper to pick up the 4th down late in the game.
The Denver defense has been exceptional all season getting pressure on the QB and lead the NFL with 37 sacks. The make-shift offensive line of the Chargers will have to try to keep Rivers upright if they want a shot to win this one. A lot easier said than done.
Melvin Gordon had one of his best games of his young career, not stat wise, but with the eye-test. He was bouncing off tackles and had some nice runs to the outside. Hopefully the coaching staff has started to implement some running plays that can get in position to use his strengths to make plays. He had 60 yards on Sunday to put him at 510 yards on 143 carries this season.
Rivers weapons on the outside have consisted of Stevie Johnson and Dontrelle Inman
who combined for 12 catches, 157 yards, and 2 TD's in Sunday's game. They'll be facing a stout secondary led by Aqib Talib and Chris Harris Jr. Antonio Gates also caught two of the four TD's Sunday but is still not playing at 100%.
Chargers' Defense:
Middle linebackers Manti Te'o and Denzel Perryman have formed a respectable duo in the middle of the Chargers' defense. Look for them to get even more snaps together this week to shut down the Broncos backfield duo of Anderson and Hillman.
Jason Verrett and Patrick Robinson have been holding it down on the outside. They are first and second respectively in pass deflections and will both have their hands full with the wide outs of the Broncos this week.
Jerry Attaochu leads the team with 4.5 sacks and will look to get after Osweiler on Sunday. Melvin Ingram has had an up and down season as far as performance, but he can make in impact on most games, leading the team with 12 tackles for losses.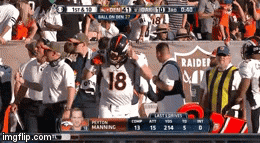 Broncos' Offense:
With Manning sidelined with the foot injury, Brock Osweiler has taken over as the leader of the offense. The 4th year player out of ASU (ew) has been solid in his relief duty and has people thinking "Manning who?". He's 2-0 as a starter, completing 61% of his passes and throwing for 4 TD's and 2 Int's. He will make some mistakes that the Chargers must capitalize on, but he has shown he can make the clutch throws when needed.
Expect a heavy dose of running backs C.J. Anderson and local product Ronnie Hillman (SDSU), as they try to keep Osweiler from having to do too much. Anderson is coming off his best game of the season as he gouged a stout Patriots D to the tune of 115 yards rushing on 15 carries, 2 TD's, and 40 yards receiving. He also had the 43-yard game-winning TD in OT.
Demaryius Thomas and Emanuel Sanders are dangerous on the outside. Thomas has 72 receptions and almost 1,000 yards on season, while Sanders adds 52 catches and 700+ yards. Vernon Davis was also acquired before the trade deadline. The veteran tight end has 10 catches as a Bronco so far this season.
Broncos' Defense:
The Broncos own the number 1 defense in the league this year. They are tops in Yards Per Game, as the only team in the league not allowing over 300/game at 285. They have the most sacks with 37 and give up just 197 passing yards a game, also tops in the league.
Von Miller has 10 sacks on the season and will be coming hard from the outside all day long. In the middle, Brandon Marshall and Danny Trevathon are tackling machines, both ranking in the top 30 for tackles with 81 and 78 respectively.
Aqib Talib, Chris Harris Jr. and T.J. Ward lead a secondary that has been lock down all season, and have picked off opposing QB's 10 times.
What We're Watching:
Last week I called for more Perryman and less Butler and apparently they heard my cries because Butler only got 10 snaps on the afternoon (Hey Coach McCoy!). I'm watching Perryman again and his energy on every play. He's so quick to shed blockers and he's got great form when tackling. I want to see him and Manti Te'o stuff the Broncos running game all day long and make Osweiler beat them through the air.
Prediction:
Broncos 27, Chargers 26
(Visited 111 times, 1 visits today)
Nick was born and raised in San Diego where he became a Chargers and Padres fan, attending numerous home games throughout the years with his dad. He then went on to attend college at the University of Arizona. There he earned his degree in marketing and now lives in San Francisco where he dreams of the the sunny beaches of San Diego. Bear Down.