Chargers News: Chargers To Honor LaDainian Tomlinson Sunday
Where does one even begin when talking about LaDainian Tomlinson? Do you start by discussing his prolific college and NFL career, where every game he seemed to add him name to the record book? Or, do you talk about his impact on the San Diego community, where he spent the first 9 seasons of his illustrious NFL career?
The San Diego Chargers will aim to do both on Sunday as they give him the teams greatest honor, retiring his number (#21) and adding him to the Chargers' Ring of Honor.
The Chargers' running back will be just the fourth player to have their number retired by the San Diego Chargers, the others being – Hall of Famers – Dan Fouts (#14), Lance Alworth (#19), and the late, great, Junior Seau (#55). He will also become the 38th member of the Chargers' Hall of Fame and be enshrined in the Ring of Honor.
#21, the team's first round pick in 2001, is arguably the greatest Charger. His accolades are simply mind-blowing when you go through all he accomplished in his 11-year career. In 2006, he became the Chargers first and only NFL MVP when he ran for the team's first rushing title with 1,815 yards, while adding an NFL record 28 rushing TD's (and NFL record 31 total TD's) that season. He earned 44 out of the 50 first place votes that year for the Most Valuable Player.
But LT didn't just get it done on the field, in 2006 he also won the Walter Payton Man of the Year award. The only other player to win both MVP and that award in the same year? Walter Pay
ton.
In 2003, Tomlinson caught a team-record 100 passes and had over 2,000 yards from scrimmage. That record still stands and would have probably been broken this year by Keenan Allen (67
receptions in 8 games) if he didn't go onto IR ending his season.
LaDainian Tomlinson became the fastest player ever to reach 100 rushing TD's, 100 total TD's and 10,000 career rushing yards. One of the things that made him so endearing to Bolts' fans was, some of his greatest games came against the… Oakland Raiders.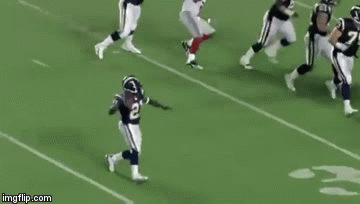 From 2003 to 2008, he averaged 132 rushing yards a game against the Raiders, including his career high 243 rushing yards against them in the final game of the 2003 season. According to silverandblack.com (ew), from 2003 to 2010 the Chargers owned the Raiders, beating them 13 times in a row but, "The first game the Raiders faced the Charger without Tomlinson, they ended the  streak. That isn't a coincidence."
In 2005 against the Raiders, Tomlinson became just the 7th player in NFL history to throw, catch, and rush for a TD in a game. He had 8 career passing TD's, what can't he do!?
When LT retired he ranked fifth in career rushing yards (13,684), second in career rushing TD's (145) and third in total TD's (162).
The game on Sunday between the 2-7 Chargers and 4-5 Kansas City Chiefs was originally supposed in the Sunday Night Football slot but was flexed for Bengals at Cardinals game. It would have been nice to see LT honored on a national stage, but as for the actual game, I'm glad the Chargers are not in prime time anymore. It will still be a very exciting day at Qualcomm Sunday afternoon in honoring the great LaDainian Tomlinson.
Growing up in San Diego and attending high school through the 2000's, I was fortunate to attend a lot of great Chargers games during LT's career. One of my favorite memories was being at the Wild Card game against the Titans in 2007 and LT, as only LT could do, dove right over the pile at the line of scrimmage to seal the win.
He will also always be remembered for his patented touch down dance, the "scoring a TD is as easy as lay-up" flip; and to him it really was that easy.
Thanks for everything LT!
LT will be eligable for the Pro Football Hall of Fame in 2017, and should be a shoe in for first-ballot.
Bolt up!
(Visited 660 times, 1 visits today)