Three Keys to an SDSU victory over UT Arlington
Finding the Chemistry
Through the first three games into the 2021-2022 season, there should be no surprise the San Diego State Aztecs are having chemistry issues. Che Evans, who averaged 4 minutes per game last season, has reportedly opted to transfer.
"I said as of a couple of weeks ago, three or four weeks ago, I know this is going to be a good team; how soon we're good remains to be seen," said Dutch on Monday's presser. "We have some work to do offensively to get our players in a rhythm. Matt Bradley, Chad Baker-Mazara, some of the new pieces we have, to try to get them comfortable offensively and in positions where they can be most effective."
On Thursday night against Arizona State, Coach Brian Dutcher played 11 guys in meaningful minutes. This is the second game in a row where Dutcher has tinkered with the lineup to find a spark on offense. 
It is taking time for the Aztecs to learn how to complement Bradley's style of play and leadership. Dutcher's new pieces scored 16 points, ten rebounds, and one assist, twelve of those sixteen points came from Bradley. Interestingly enough of the guards, Pulliam had the better plus-minus at nine while Bradley had -8. Though not a perfect statistic, numbers are indicating that Bradley and Pulliam are not meshing in the backcourt. 
This team is still trying to find its identity this early in the season. The shooting from the perimeter was a horrid 6-of-21, and their leading scorer was Lamont Butler, who shot 40% from the field.
"So that's on me to find that chemistry, to find that mix between a low post game, a ball screen game, or perimeter shooting game, to put that mix together into a game plan where we're functioning at a high level and comfortable on the floor."
Lock in on David Azore
UT Arlington owned a mediocre 2020 record of 13-13 while finishing 9-8 in Sun Belt. Star guard David Azore was planning to transfer out of the program last summer but then had a change of heart after longtime assistant Greg Young was announced the head coach of the program.
Azore nearly has 1,000 career points in his time at UT Arlington and has a career average line of 11.6 points per game, 4.5 rebounds per game, and 2.5 assists per game.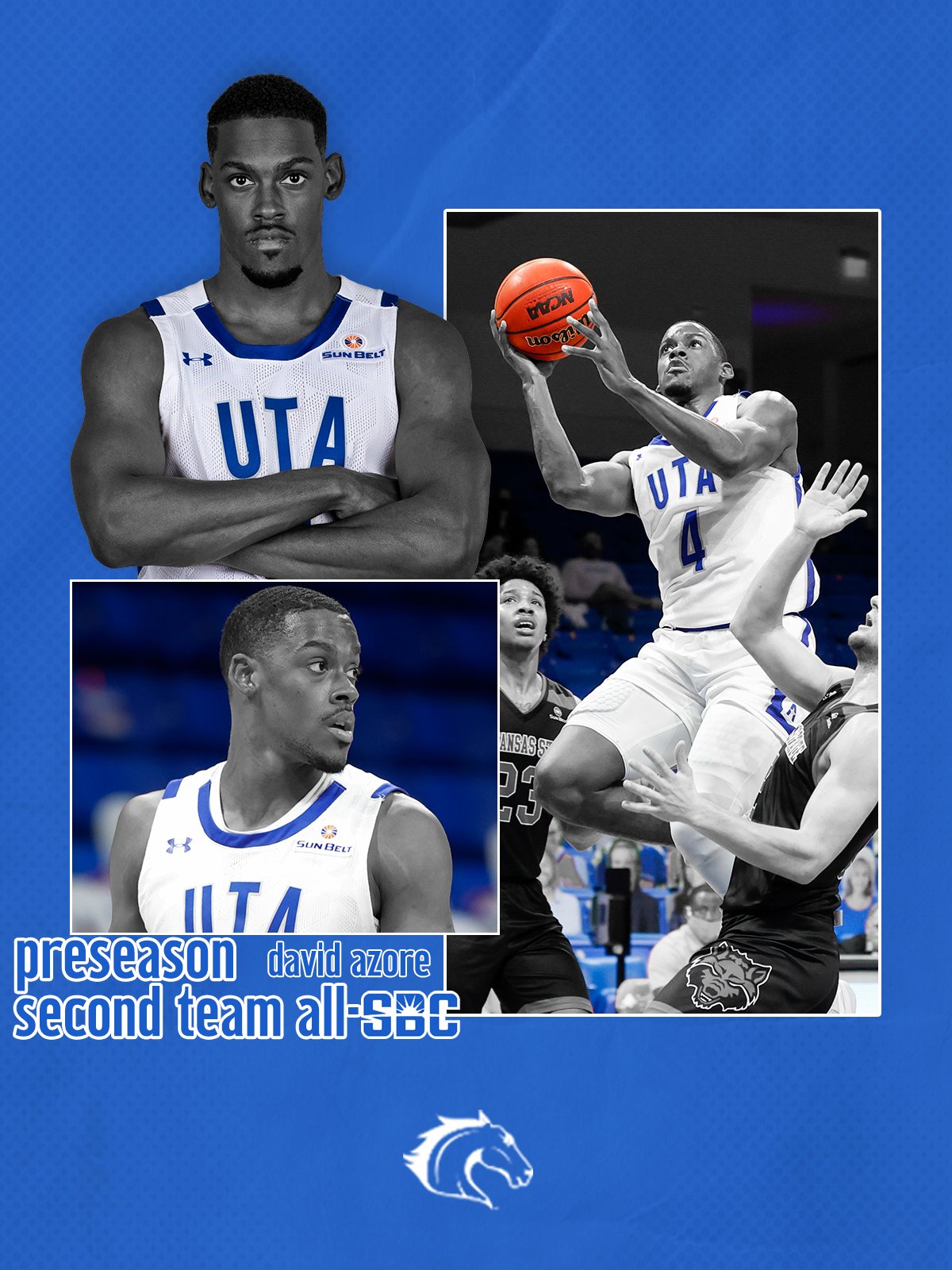 The 6-4 guard from Houston, TX, missed thirteen games in Sun Belt play due to a leg injury and still averaged 12.8 points per game, 4.8 rebounds per game, 2.1 assists per game last season. The Mavs' offense runs through Azore and was apparent from their Thursday night 64-36 blowout loss to the University of North Texas.
The Mean Green shut Azore down. The Mavs guard went 0-for-6 from the field and limited him to 5 total points from free throws. The Mavs' 36 points were their 3rd-fewest in a single game in program history.
Trey Pulliam is likely to pull him as an assignment, as he did a great job keeping ASU's DJ Horne in check. He was in lockstep with his off-ball movement and look to see the same occurring on Saturday evening. 
Stay Focused on the Mavs
San Diego State hosts the UT Arlington Mavericks in what looks to be a tune-up game before the Aztecs play in Anaheim over Thanksgiving for the Paycom Wooden Legacy. The Mavs have a tough non-conference schedule as SDSU is their 4th 2021 NCAA Tournament team in a month.
The Mavs opened their season with a blowout loss to Oklahoma State, 88-45, and are searching for their first road win.
There are multiple programs across college hoops that have lost buy-games this season. Samford upset Oregon State in Corvallis, Louisville lost to Furman at home, and the same Oklahoma State team that blew out UT Arlington lost to Oakland in Stillwater.
Statistically, this game should be a cakewalk for the Aztecs. However, with the Georgetown Hoyas coming up next Thursday and coming off an emotional win against Arizona State, this game has the essence of a letdown game. While the defense looks adequate enough, SDSU has struggled to find its offensive identity. As Dutcher figures out a stable formula that works, a game sandwiched between two well-coached programs is stress-inducing for a young team trying to come together.
The focus needs to be razor-sharp because the team from Texas is hungry and desperate for a non-con victory.
(Visited 122 times, 1 visits today)