SDSU's Patrick McMorris primed for stardom
Heading into Spring Camp 2021, the San Diego State football team had a major question mark: how will the secondary replace three starters who headed to the NFL? The three starters were cornerback Darren Hall, Warrior safety Tariq Thompson and Aztec safety Dwayne Johnson, Jr. 
All three positions are vital to the success of the 3-3-5 defense, but none more so than the Aztec position that plays in the middle and binds the three levels of the defense together. 
It was not long into Spring Camp when it became abundantly clear who would be taking over the Aztec position in 2021 and beyond. 
"Pat McMorris definitely caught my eye," said Taylor Hawkins during a press conference in spring camp last year when asked which player competing for one of the open starting spots had impressed him most. "You probably saw him in the Nevada game last year," added Hawkins. 
The Nevada game Hawkins referred to was on November 21, 2020, in McMorris' sophomore year when he started his first collegiate game in place of Johnson, who missed the game due to a death in his family. McMorris collected seven total tackles (five solo), one tackle for loss, and one pass breakup in the 26-21 loss, showing his future potential.
On the upcoming episode of The SDSU Football Podcast, McMorris recalled feeling nervous when he received word at the start of the week that he would be starting at Nevada but had the whole week to prepare for the game. "It set me up confidence-wise to perform last year (in 2021)," McMorris said.
While McMorris played safety in high school, he was known more for being a star running back. In his senior season at Santa Ana High School, he rushed for 1,801 rushing yards and 23 touchdowns. After entering his senior season with zero Division I offers, his recruitment started to pick up as the season progressed on the defensive side of the ball. 
"Towards the end of the season, he was triggering down on all runs while still being able to cover the field against the pass," Charlie TeGantvoort, head coach at Santa Ana High, told EVT. 
He recalled McMorris making the game-saving play on a two-point conversion attempt with no time left in the CIF-SS Division 8 quarterfinal in 2018 that preserved a two-point win. "(Temecula Valley) went with a heavy shotgun formation with their Division I QB taking the ball in a fake QB ISO down towards the A gap and then jumped to throw the ball to his TE, who had leaked out to the back of the end zone," TeGantvoort described. "Luckily (McMorris) saw the TE last second and was able to dive and knock the ball away right before it found its target. One of the best plays I've ever seen in person."
Oh, and McMorris rushed for 275 yards and two touchdowns on offense as well in the 21-19 victory. 
"Running back was my first love," he said but remarked it was nice to transition from offense to defense and be invested in learning a new position and new skill set. "I'd rather hit someone than get hit. That's what I always tell myself," he added.
McMorris credits his teammates in the secondary for helping him with the transition, especially Johnson, his predecessor at the Aztec position. 
"I learned practically the majority of the things I know from watching (Johnson) during practice, in games, and on film," said McMorris. "He definitely took me under his wing…said pay attention to me, do these things, and you'll be just fine."   
McMorris took what he learned, applied it to his game, and began 2021 as the starting Aztec safety for San Diego State. By the end of the season, McMorris led one of the best defenses in the country to a historic 12-win season and was named First Team All-Mountain West. 
He paced SDSU with 90 tackles and four interceptions while adding 2.5 tackles for loss and nine pass breakups on the season. He attributed his ability to make plays by "not trying to be superman and to do everything, (and) just trying to do my job." 
In a double-overtime victory against San Jose State, McMorris tallied 12 tackles and three pass breakups. However, his best performance was in the last regular-season game against Boise State on Black Friday, helping the Aztecs come back from a 13-point deficit with two critical interceptions (and five tackles), earning Mountain West Defensive Player of the Week.
McMorris' main areas of improvement for 2022 are getting better in man coverage, which he feels is his biggest weakness, and "being able to read run or pass faster" as a play develops. Per Pro Football Focus (PFF) advanced stats in 2021, McMorris earned a 68.1 overall defensive grade. His pass coverage grade was 65.1, allowing 33 receptions on 53 targets against (62.3%) for 418 yards and four touchdowns on 580 coverage snaps. His run defense was considerably higher, earning a 78.0 grade and credited with 25 defensive stops, defined as a tackle that constitutes a "failure" for the offense. McMorris registered a 15.1% missed tackle rate in 2021, something he will need to improve in 2022.
McMorris is also focused on becoming more outspoken with the departures of six-year seniors Taylor Hawkins and Trenton Thompson from last year's secondary. "Coming up on my fourth year…I'm considered a senior now, having that role of being a vocal leader…and getting players on the right track, especially since we are a young team," McMorris said.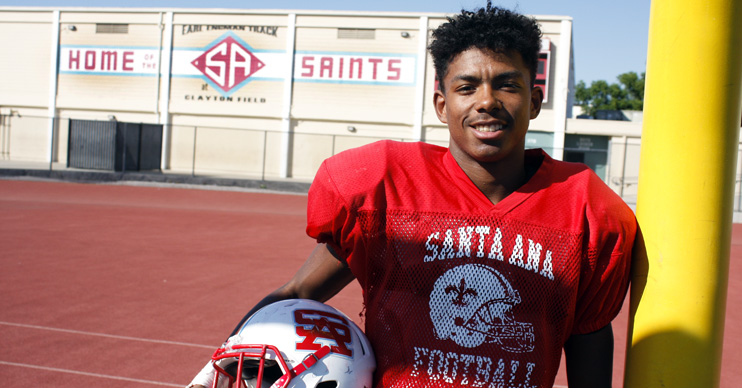 "(McMorris) was the ultimate leader (in high school)," said TeGantvoort. "It's rare for your best player to also be your highest character player, and when that happens, your entire team becomes so much better in every way because of it."
Being more vocal will improve the communication of the five players in the secondary and hopefully eliminate some of the breakdowns the secondary endured last season that led to giving up big passing touchdowns. 
"Communication is key on defense, and without that, we are all over the place," McMorris explained. "Our chemistry comes through that where we are communicating and understanding what everyone else is doing…just being able to trust each other."
While McMorris is solely focused on his upcoming 2022 season, another All-Mountain West season will surely entrench him on NFL scout's radars heading into the 2023 NFL Draft. As a fourth-year senior in 2022, McMorris would be eligible to return for a super senior season in 2023 due to the COVID-19 exemption, but a shot at being the next SDSU draft pick might be hard to pass up. 
Dane Brugler, NFL Draft Analyst for The Athletic, believes the 2023 NFL Draft is a real possibility for McMorris. "Based on early scouting for the 2023 draft class, McMorris is one of the ten best senior prospects at the safety position," Brugler told EVT. "He put himself on the NFL map with his 2021 film and is on the trajectory to be at the Combine and hear his name drafted next April."
Unlike last year when the Aztecs went into Spring Camp hoping to find two new starters in the three-man safety unit, the three starting spots appear to be in solid hands. Here is a quick look at the other two starters next to McMorris, plus the likely candidate from the spring roster who would step in as a starter at any of the three positions in case of injury. 
Cedarious Barfield, Senior (Field Warrior)
Career: 52 tackles, 4 tackles for loss, 5 pass breakups
PFF Advanced Stats: 65.6 defensive grade allowing 26 receptions on 41 targets against (63.4%) for 265 yards and four touchdowns on 477 coverage snaps; 12.9% missed tackle rate
Barfield is SDSU's most versatile player in the secondary. After playing cornerback in 2020, Barfield transitioned to Boundary Warrior in 2021 and started every game until an injury against Nevada in week 11. He is currently listed as the starter at Field Warrior (replacing Trenton Thompson) in the post-spring depth chart. His experience covering players as a cornerback will definitely help cover shifty slot receivers in 2022. 
McMorris described Barfield as a smart player because "he knows the concepts the majority of the time, he will cover you one-on-one…and is definitely a playmaker." One example of Barfield's playmaking ability was his interception in the end zone during the Spring Game on a pass attempt from Will Haskell.
McMorris recalls being on the sideline watching the offense line up for the play and thinking to himself to not run the slant because Barfield knows it is coming. "(Barfield) starts off with outside leverage, then moves to inside leverage and breaks on the ball and tips it and picks it off in the end zone," McMorris described.   
Ced Barfield picks off Haskell in the end zone on the opening drive of 2nd half. #SDSUSpringGame pic.twitter.com/WNjBYEmliQ

— Andre Haghverdian (@ahaghver23) March 25, 2022
C.J. Baskerville, Sophomore (Boundary Warrior)
Career: 39 tackles, 1 tackle for loss, 1 fumble recovery, 1 interception, 3 pass breakups
PFF Advanced Stats: 81.0 defensive grade (including an impressive 86.4 coverage grade), allowing 14 receptions on 21 targets against (66.7%) for 163 yards and 1 touchdown on 259 coverage snaps; 11.4% missed tackle rate  
Baskerville stepped in for an injured Barfield as a true freshman last season for the final five games and showed why he was a highly-recruited high school player. Baskerville capped off his freshman season by winning Frisco Bowl Defensive MVP after nine tackles and his first career interception, earning a 78.9 defensive grade per PFF. With Barfield moving to starter at Field Warrior, Baskerville will keep his starting role at Boundary Warrior heading into 2022 and fortify an elite and experienced safety trio for the Aztecs.
Kyron White, Junior
Career: 11 tackles, 2 forced fumbles
PFF Advanced Stats: 64.9 defensive grade allowing 1 reception on 1 target against for 13 yards; 0%  missed tackle rate
After being listed as the primary backup to McMorris at the Aztec position in 2021, White is listed behind Baskerville at Boundary Warrior in the post-spring depth chart. With the ability to fill in at both Aztec and Warrior spots, White is likely the fourth-best safety on the roster and figures to be the first one in line to fill in as a starter in case any of the three starters are unable to play. 
"(White) loves the game, is loud, and plays fast," said McMorris. "He knows what he is doing, so he is definitely a guy who can come in and play." 
White's only extensive playing time on defense came last season in the double-overtime victory against Utah after McMorris was ejected in the first half due to a targeting penalty. He played 69 snaps, 53 of which were in pass coverage as Utah abandoned the run and went to a pass-first offense in the second half in their comeback bid. White was only targeted once, allowing a 13-yard completion while earning an above-average 80.9 tackling grade per PFF.
(Visited 710 times, 1 visits today)