Around the Mesa, news and notes on the Aztecs
Following the Aztecs' two Final Four games, the media scrum surrounding Lamont Butler could not have been different. After hitting the first buzzer-beater with his team trailing in Final Four history, Butler rivaled the Beatles visiting the US for the first time.
Following the loss to UCONN, it was a different scene. Alone in the corner of the locker room, Butler sat by himself.
"It's going to set us up to achieve higher things," Butler said when asked what the Final Four run could mean for the Aztecs. "This is one step in our careers, college basketball. Everyone dreams of playing professionally. I feel everybody with the loss, but this loss helps our national respect go higher."
That Bulter took a question about the future at SDSU and responded about his professional aspirations was the first indication his offseason goal was to earn a place in the NBA draft. Butler falling short of that aspiration was not surprising, and he should be better for the experience.
There is a lot of room for growth in Butler's game. Despite making the most critical bucket in city history, he is not an elite shotmaker. Down the stretch against FAU before "the shot," he was subbed out on offense. Butler creates any look he wants every time down the court, but he does not make them at a high enough clip yet.
Statistically, Butler has a turnover issue. Two a game is too high for an upperclassmen point guard. A closer look shows that many of those occurred early in a contest, meaning he frequently played 20 minutes without one turnover. Nonetheless, Butler has yet to run an offense. Players with less ceiling have been the team's main facilitators because he has not stepped into that role.
Those deficiencies are likely the reason he is returning to SDSU. His strengths – unique athleticism, elite defense, game-changing speed, and the clutch gene – made Aztec Nation hold its collective breath as he weighed his options until the last week. Butler's NBA interest was more than developmental, and the Aztecs are fortunate he will be back in uniform for them.
JD Wicker's Athletic Department Designs
Among the distinctions of SDSU's athletic department is the space shared by all the athletes in the Fowler Athletic Center. Unlike many universities where the football and basketball teams have separate facilities, SDSU houses all of its teams in one building. This is by design.
"Our athletic department is pretty unique when you look at those top-tier, upper-echelon athletic departments in terms of we're all in the same building," Men's Soccer head coach Ryan Hopkins said on an upcoming episode of The SDSU Podcast. "There isn't football in some mega-building across campus (or) basketball in their own world. We're all together. All the coaches get along really well. We all bounce ideas off each other. … It's exciting when you see all the student-athletes go to each others' games. There's just a different bond here."
This is one of many examples where SDSU repurposes something that could be seen as a negative into a positive. Certainly, one reason the coaches share a facility is that it is cheaper, and the main campus is landlocked. Born out of this necessity is a unique feature at SDSU. Wicker turned a weakness into a strength.
When SDSU built the JAM Center, they didn't include a separate weight room in the design. They chose instead to keep the distinctiveness Hopkins described.
The trickle-down is a competitive culture that liberates coaching staffs to figure out how to succeed, even through unconventional techniques like the head coach of the Men's basketball team allowing his assistants to run practice. This perspective also gave birth to teams filled with players who put the collective above themselves. SDSU attracts individuals not turned off by the extra scheduling, the crowded halls, or the other inconveniences created by sharing space.
Jay Pal transfers to SDSU.
The NCAA should make the extra year of Covid eligibility permanent. SDSU's newest basketball player, Jay Pal, is the perfect example of why.
Pal would not be an Aztec without the extra year. He graduated from Omaha Central High School in 2018. This upcoming season is his final year of eligibility. In the five years since leaving Omaha Central, he has worked his way to a spot with the NCAA runner-up.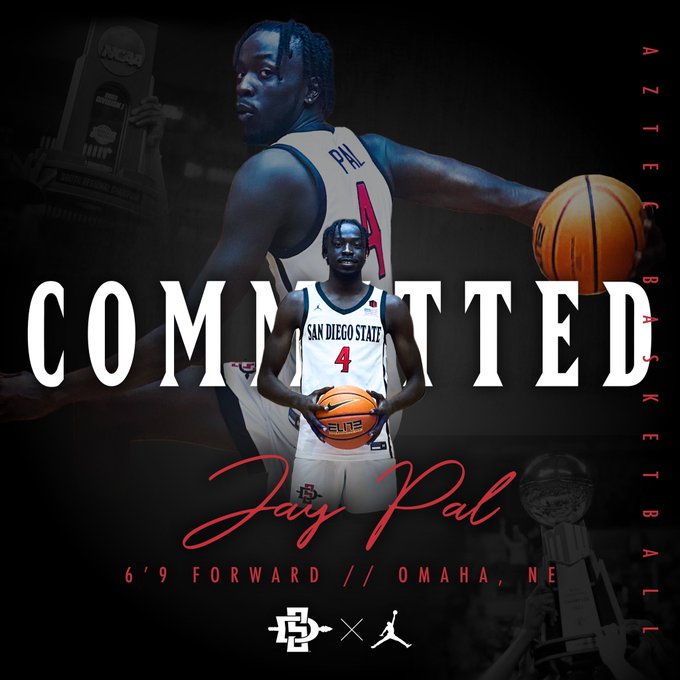 "He was not on a lot of people's radar as being a Division I basketball player at that time," Eric Behren, Pal's high school coach, told EVT. "He was a late bloomer. As a junior in high school, he probably averaged six points and four rebounds a game. He didn't put up big numbers. I'd say his senior year, he might have been up to ten points and six rebounds, and three blocks. Good numbers, but he wasn't an all-state player or anything like that. He was just kind of a kid that improved slowly as he went to prep school and junior college. He just kept getting better and developing; getting stronger and putting some weight on helped him, and his skill set continued to grow."
Most DI athletes are celebrities on their high school campus. Pal was not. Behren described him as a quiet kid who just fit in at the huge public school in Omaha. Behren used him as a center because Pal could not dribble or shoot well. Pal's rise from those humble origins to a place with one of the best DI programs in America is impressive, but it would not have been possible without the extra year granted by the NCAA.
The Aztecs are hoping to take advantage of Pal's extra year just like they did with Nathan Mensah, Aguek Arop, Adam Seiko, and Matt Bradley.
SDSU's Super Softball
The excitement surrounding SDSU's softball team was a fun way to continue the vibe of the Men's Basketball Final Four run. The joy the Lady Aztecs competed with is all that is best with college athletics. There were so many moments from the Aztecs' postseason.
Catcher Cali Decker's 3-run homerun to open up the scoring in the regional against Liberty was a glimpse at the dominance SDSU would have in Los Angeles. Makena Brocki's blast to cap the 6-0 win over Grand Canyon. The final out against Liberty to send the Aztecs to their first-ever regional. AJ Murphy's two-run double to put SDSU ahead for good over Utah in the Super Regional.
Head coach Stacy Nuveman Deniz has built a good team in only two years. The future appears even brighter. SDSU only had four seniors on the roster in 2023. Most of the positional players were underclassmen.
"We talked about just being excited for the future of this program, but going bigger picture- San Diego State Athletics is in the golden spot," Nuveman Deniz said after the final loss to Utah. "It's all cautiously optimistic, but we are optimistic that we're going to that Power 5 level and all of the things that come with that. Different opportunities in recruiting, opportunities in terms of resources, facilities, and all of the other things. … We're ready to go, and I feel blessed I get to be here as this is happening. When I took this job 15 years ago as an assistant coach, I couldn't have imagined this is where we would be going."
SDSU Basketball's First Class of 2024 Commit
Among the most watched storylines surrounding SDSU Men's Basketball is how the trajectory of the program changes following its Final Four run. Prior to NIL and the one-time transfer rule, teams that made it to the game's biggest stage saw improvements in the athletes they could attract to their programs.
"You think about Gonzaga," SDSU assistant JayDee Luster explained to EVT last month. "When they went to the Final Four, the trajectory of their program changed. They were able to recruit a better player. Everything changed. But now, in today's climate with the NIL market, I think it's changed a little bit. A lot more decisions are made based on NIL, made based on money. It'll be interesting to see how this changes our program moving forward."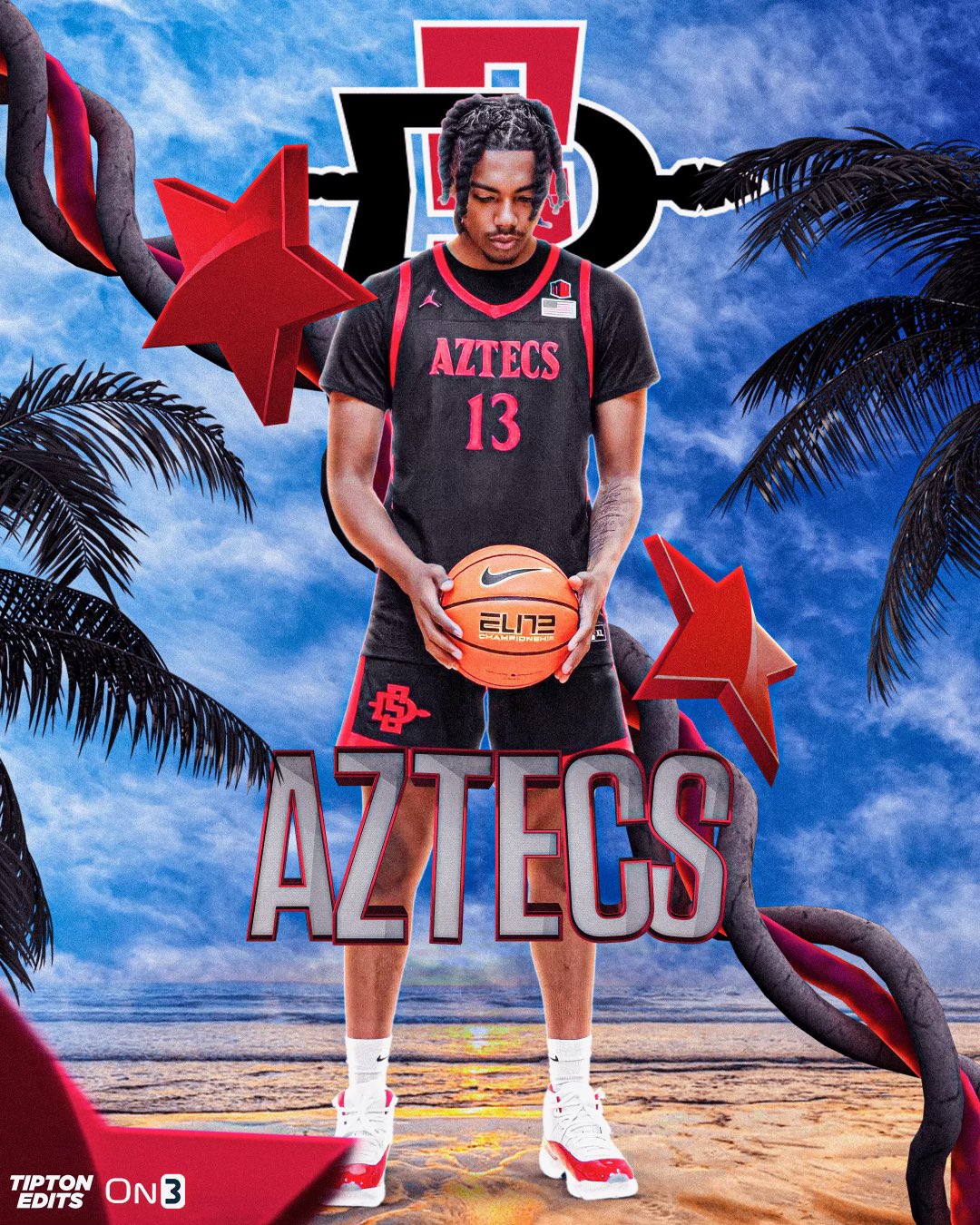 At the basketball celebration event, Dutcher predicted the Aztecs would be able to get into more doors because of the Final Four, but would they be the right doors, he wondered. The first indication of an answer to these questions came on Sunday. 6-foot-4 guard Taj Degourville committed to the Aztecs. He is the first commit for the class of 2024.
A borderline three or four-star recruit, Degourville's recruiting profile aligns with athletes SDSU brought in before their postseason success. He also fits very well with the competitive, defensive-minded, positionless players who have thrived on the Mesa.
Degourville is from Las Vegas, NV, and had UNLV among his eight finalists. SDSU going into the backyard of a conference rival is impressive. He profiles as the kind of player that has been the difference between the Aztecs and Rebels over the years.
On Sunday, the roster for the prestigious Pangos All-American camp was released. Degourville is among the participants. If the future Aztec competes well at the event, his recruiting ranking will soar.
From June 4-6, some of the best high school players from the classes of 2024, 2025, and 2026 will compete at the camp. Including Degourville, only seven of the 112 players have verbally committed to a school.
SDSU baseball's TJ Fondtain named an All-American
Aztec P/OF TJ Fondtain was named a second-team All-American by Collegiate Baseball Newspaper. The junior from Clovis, CA, was 7-4 on the season with a 2.82 ERA. He struck out 99 batters in 92.2 innings. His best outing was a 14-strikeout, no-hitter thrown against Nevada. At the plate, Fondtain led the team in OPS (.879), Slugging % (.517), and home runs (9).
The award adds to the hardware Fondtain has won this year. He was the Mountain West Pitcher of the Year. Fondtain has also been named as one of five finalists for the John Olerud Award, annually given out to the top two-way player in the country. Statistically, SDSU's best player in 2023 stacks up favorably with the rest of the finalists. How much playing in the MW will be held against him will be interesting.
Just as the John Olerud committee has to weigh SDSU's conference with Fondtain, analyzing the Aztecs' baseball season should be curved based on who the Aztecs play against. SDSU won pitcher of the year, coach of the year, and its first conference regular season crown since 2004.
Those achievements are tempered because the MW was among the worst conferences in college baseball. San Jose State's 31-27 record was tops in the league. The Spartans lost their first two games of the Stanford Regional by a combined 24-7.
SDSU head coach Mark Martinez had a very seasoned roster in 2021. They went 30-16. Martinez elected to replace that team with a bevy of younger players. The last two years have been down for the Aztecs with a combined 42-67, a .385 winning percentage. While SDSU improved its win total by six games in 2023, that two-year mark is the lowest in program history since at least 1970.
The positive is the last two times the team had comparable losing records, the program rebounded and had some of its best seasons in the last two decades. The Aztecs continue to attract and develop talent, but more is expected from a program in one of the most fertile recruiting areas in the country.
Jaedon LeDee is in 2023-2024
Butler and Pal were not the only additions to the 2023-2024 Men's Basketball Team. Jaedon LeDee is also bringing his talents back to the Mesa for another year. On paper, LeDee's return is the most important development of the offseason to date. No matter how bright Demarshay Johnson and Elijah Saunders' futures are, the prospect of the Aztecs with only underclassmen upfront would have been scary.
"I got great feedback from the people and organizations I met with and know what I need to work on to achieve my goal of playing at the next level," LeDee said in a release. "With that being said, I'm excited to continue my journey at San Diego State and help lead the team to another Mountain West title and back to the postseason in 2023-24."
LeDee's fit next season is intriguing. Head coach Brian Dutcher has frequently used four wing players and one big throughout his tenure. He was able to employ this strategy because of the skill of Yanni Wetzel and Nathan Mensah inside. Early last year, LeDee struggled with the defensive nuances to suggest he could fill this role, but he improved as the year progressed. LeDee's growth left open the possibility of Dutcher employing a starting lineup of Butler, Darrion Trammell, Micah Parrish, Reese Dixon-Waters, and LeDee.
Should the Houston native need a player with better size next to him, the possibility of forming a front line with Saunders is compelling. Both could be employed interchangeably, alternating between playing the stretch four and five positions. LeDee will certainly play next to Johnson at times next year. Throughout Johnson's time on the Mesa, athleticism, and conditioning have been the two most consistent themes when describing the young center. How many minutes he is capable of giving Dutcher remains to be seen.
The shape of the 2023-2024 Aztecs will be determined by how LeDee is utilized. Last year, he substituted for Nathan Mensah in the rotation. This year, he replaces Mensah as the team's most important player.
SDSU's Football Schedule Released
The television networks and most of the times for SDSU football's upcoming season were announced last week. The first six games of the season are a glimpse of the types of stretches that will be commonplace if and when they join a power conference. On paper, SDSU's first six games are more challenging than USC's opening slate.
The Trojans open at home against San Jose State, Nevada, and Stanford before going on the road for a pair against Arizona State and Colorado. They end the first half of their season back in Los Angeles against Arizona. SDSU also has three games at home. The Aztecs play Ohio, Idaho State, and UCLA at Snapdragon Stadium. They then sandwich a home contest with Boise State with two road tussles against Oregon State and Air Force, respectively.
Only one 12:30 pm game is on the slate, and that is on the road, so the temperatures for kickoff should be pleasant most of the year. SDSU's game against UCLA will be shown on CBS. It is the fourth year in a row they will have played on that channel.
In 2020, SDSU had a road contest against Nevada at 12:30 pm on CBS. SDSU's contest in Carson against Boise State was a 9 am kickoff on the channel in 2021. Snapdragon Statdium's debut against Arizona was also at 12:30. The later time against the Bruins this year might be a sign of the growing respect for the program.
December 2nd is the date of the Mountain West Championship. 2023 is the first year the conference will be playing without divisions. The top-two teams will meet in the title game.
(Visited 1,699 times, 1 visits today)
My earliest sport's memory involve tailgating at the Murph, running down the circular exit ramps, and seeing the Padres, Chargers and Aztecs play. As a second generation Aztec, I am passionate about all things SDSU. Other interests include raising my four children, being a great husband and teaching high school.