A Look at What Has Been Slightly Off for Manny Machado in 2019
Since being signed to a $300 million deal over the offseason, Manny Machado has been one of the best San Diego Padres position players by fWAR. Although he's been productive for the team, he's not playing at the same level that the 26-year-old superstar is capable of performing at. Below is a discussion of the tweaks he can make to get himself back on track. 
While on defense Manny Machado has been superb for the Padres as he always has been throughout his major league career, the Miami native's hitting has been subpar by his lofty standards in 2019.
Having put up 1.2 fWAR thus far in 2019, he's on pace to produce 3.4 fWAR throughout the entire season.
Now that's still an invaluable player — The Padres' best position player last year only produced 2.2 wins above replacement in 2018. However, when considering that Machado has three 6+ fWAR seasons already on his resume and is only 26, it's tough not be a little disappointed. Despite having a career wRC+ of 119, his 2019 wRC+ has only been 105. It's still early, and perhaps an overreaction to analyze specific things Machado has done thus far in 2019. Nonetheless, there are some signs of changes in Machado that are worth looking into to better understand why he's having a slightly down year.
The primary issue for him at the plate has been an increase in strikeouts, as the rate at which he's struck out is currently the highest it's ever been throughout his career. While Machado's eye and judgment of pitches have remained more or less the same, his ability to make contact has declined so far in 2019. The table below provides evidence of these issues:
| | | | | | | | |
| --- | --- | --- | --- | --- | --- | --- | --- |
| Season | O-Swing% | Z-Swing% | Swing% | O-Contact% | Z-Contact% | Contact% | Strikeout% |
| 2018 | 32.2 % | 73.5 % | 48.8 % | 65.8 % | 89.0 % | 79.8 % | 14.7% |
| 2019 | 30.9 % | 69.4 % | 46.0 % | 54.6 % | 85.3 % | 72.7 % | 20.9% |
So he's become more selective at the plate this season, based on the plate discipline data above. His contact rates are down both on pitches in and out of the strike zone, which has been the culprit of his increased strikeout rate. Why has this occurred in the case of Machado, who should theoretically be in his prime as a hitter?
When looking at the charted locations of the pitches Machado has whiffed on this season, we can more easily understand a significant part of why he's making less contact in 2019. Take a look at the pitch heatmaps of the pitches he swung-and-missed on in 2018 shown first, followed by those same pitches this season: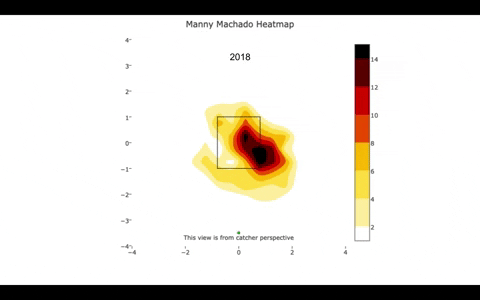 He's chasing more pitches that are in difficult locations to hit well, as we can see above. The numbers on his plate discipline don't show it, but when looking more closely, we can see that Machado has been missing on less-than-ideal pitches in 2019.
Looking at the Statcast data on Machado's batted balls, it becomes clear that he has also made a lower quality of contact on pitches this season compared to in 2018:
| | | | |
| --- | --- | --- | --- |
| Season | Average Launch Angle | Average Exit Velocity | Barrel/PA% |
| 2018 | 14.4 degrees | 91.6 mph | 8.5% |
| 2019 | 14.6 degrees | 91.1 mph | 6.0% |
So Machado's not hitting the ball any differently than he did last year on average, yet last year he barreled pitches up noticeably more often than he has in 2019. The primary reason why he hasn't barreled up as many pitches? A rise in the number of pop-ups that he's hit. Taking a look at his infield fly rate below, we can see a part of the reason why he's barreling up a lower percentage of his batted balls:
| | |
| --- | --- |
| Season | Infield Fly Ball % |
| 2018 | 11.6 % |
| 2019 | 18.5 % |
This number of pop-ups is the highest Machado has ever posted in his career, which is likely due to him pressing in his first year with the Padres. If he can stay within himself and work on hitting more line drives, Machado can be more successful as a hitter.
To be clear here, Machado is still a generational talent that will almost surely be key to the team's potential emergence in the NL West in the years to come. He's the face of the franchise and has still played phenomenal defense at third base. Filling in for Fernando Tatis Jr. at shortstop has also been key for the team during the last month or so. Although this article has a focus on analytics, his presence in the lineup has made a big difference for many other hitters throughout the Padres' lineup. This is a player who is better than this, right?
The key adjustments for Machado would ideally be for him to swing at more hittable pitches in the zone and hit more line drives. Throughout the past four seasons before 2019, Machado has hit at least thirty doubles. He's currently on pace to hit 21 doubles. Seeing him have more doubles as a result of hitting more line drives would be a very positive sign for his bat. More likely than not, Machado will right the ship shortly. Far and away the most important thing for him to do is to stay within himself and not try and press too much. When he relaxes and gets back to being himself, look out.
(Visited 290 times, 1 visits today)