The Lessons Learned Following Lauer and Lucchesi's First Half Debuts
When the Padres drafted Joey Lucchesi and Eric Lauer in the 2016 draft, they were largely seen as advanced college lefties with a chance to ascend to the major leagues quickly.
Just over two years later, the two have already become regular members of the starting rotation for the Padres.
Lucchesi pitched well at the start of the season, yet has struggled to find the same success of late. Lauer had a tough start to his year in the big leagues, though has shown flashes of brilliance thus far.
Joey Lucchesi has pitched slightly better than Lauer has, so far this season. Though Lauer's nine pickoffs have been quite impressive, especially considering he's only made sixteen starts. Both players have been fun to watch, yet also quite frustrating at times. Really, the inconsistency in their performances is understandable, given that they're rookies getting their first shots against major league hitters.
Understanding what has caused their ups and downs in their debuts, is quite an intriguing investigation. There are of course numerous explanations for their differences in performance, and as many of those reasons as possible will be explored here. To start, we'll look at Joey Lucchesi's use of his repertoire throughout the year.
What jumps out immediately about him, is that he's almost exclusively using only two pitches — fastball and changeup. Padres fans are all familiar with his funky 'churve' pitch, that looks like it has curveball and changeup movement.  Some pitch tracking data has defined the 'churve' as a changeup, while others have called it a curveball. Here it is in action, so it can be visualized: One of the first questions that comes to mind when watching Lucchesi: Can he be a consistently successful starting pitcher, whilst relying upon two primary pitches? Let's talk about the two pitches, and try to evaluate their viability in being able to serve Lucchesi on their own.
With his unconventional mechanics, his pitches have played better than they probably would if he had a more normal looking pitching motion. So the deception in his delivery, is a reason to believe in his ability to use the two pitches well. Checking out how the two pitches work on their own, is necessary to be fully sure if they're enough, though.
Starting with his fastball, it's a pitch he throws more than anything else in his arsenal. Hitters have a .243 batting average against it, so the pitch seems to be pretty useful for Lucchesi. Then the question becomes, is he being successful challenging hitters with it? Based on the results so far, it looks like he may benefit from throwing the pitch in a slightly different location.
Below on the left, is the location of all the fastballs he's thrown this season, according to Statcast. On the right, is the heat map of every hit against those same fastballs this year: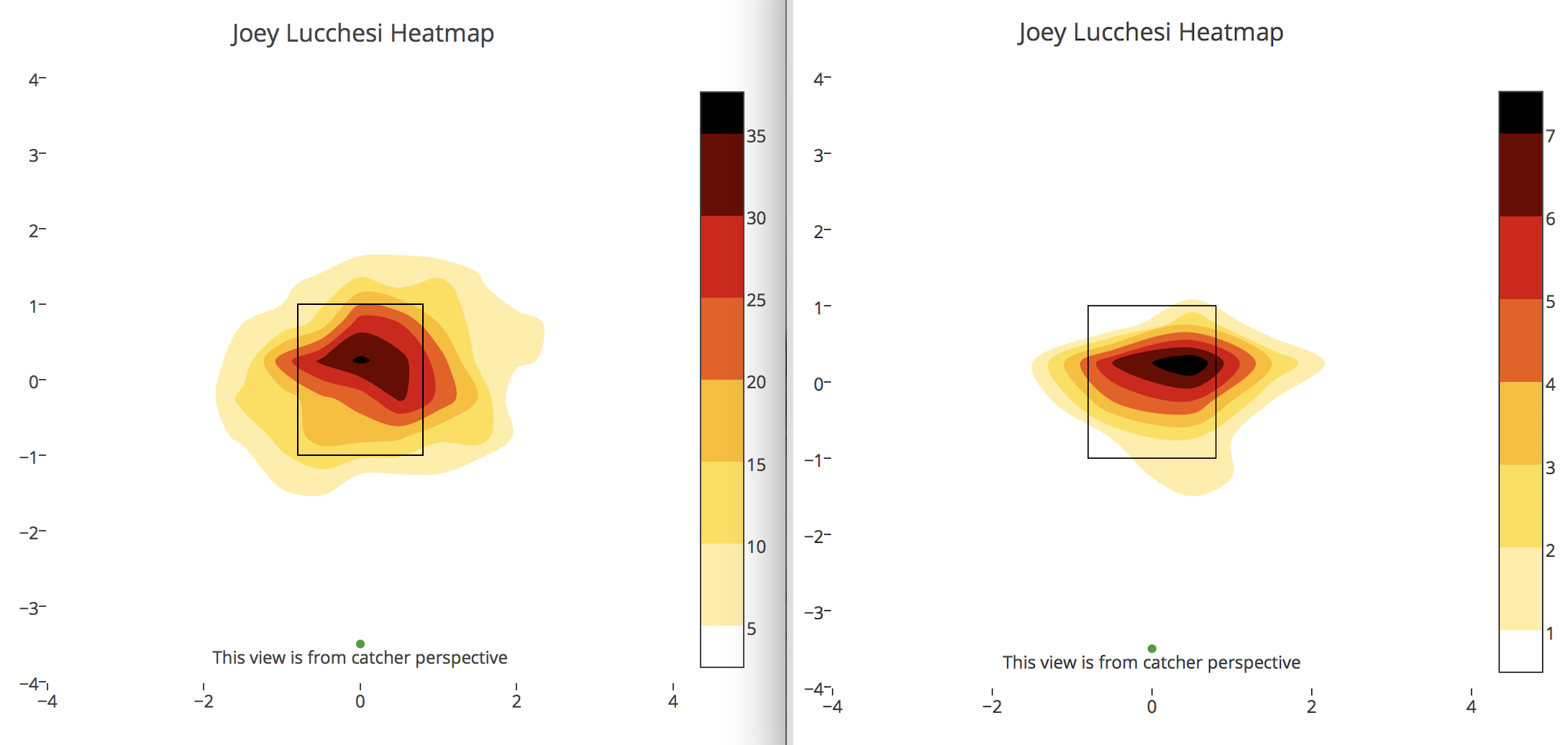 Perhaps Lucchesi would benefit from throwing the pitch a little higher in the zone, where it'd be harder for hitters to make contact with. He likes to throw a lot of his pitches at the upper part of the strike zone, so it would seem like a reasonable adjustment for him to make.
Here's a look at his whiffs generated by all the fastballs he's thrown in 2018:
Based on the data here, it would be a good idea for Lucchesi to throw his fastball higher towards the upper-outside corner of the strike zone. He could also consider trying to put more pitches on the low-outside corner, too.
As far as his fastball is concerned, it is definitely a good pitch for him. It's just a question of him maybe changing his location of it, to maximize its potential. By being a little more creative with the placement of his fastball, Lucchesi could likely take steps in the right direction.
Now, let's check out how he's used the churve. When Lucchesi is on and pitching well, he is locating it up and in to righties, and up and away to lefties.
For example in his nine-strikeout effort against the Giants in which he went six innings and allowed only one run — Lucchesi threw the majority of his churves up and in to righties. That pitch chart is on the left. On the right, is where he located the churve in his start against Oakland in which he only lasted 1.2 innings and allowed four earned runs:
So the conclusion here is that while his fastball is important, it isn't as significant to his performance as his churve is. When he's putting his churve in the right location, he is a very effective starter. If he can more consistently put it in the locations shown on the chart on the left, he'll be in good shape. A small note about him is that Scouts saw him use a curveball and Slider in the minors, that we haven't really seen him use in the majors thus far. Using those two pitches along with the Fastball and churve could also really help Lucchesi. After all, his teammate Lauer has found newfound success by putting more faith in his own Slider.
The Kent State product was great the other night against a pretty solid Dodgers lineup, so analyzing that start is definitely of interest to us. Comparing that start with other starts that didn't go as well, will be the main focus when looking at Lauer's performances this season.
What's been the most significant factor for Lauer above all else, is obviously maintaining his recently increased fastball velocity. Cody Bellinger seems to think it's a weird enough pitch for it to be pretty useful, as you probably heard from his postgame comments the other day. Of course there are other factors affecting Lauer's pitching, though.
Lauer has begun using more of his repertoire over the course of the season, and he has started to be more successful as a result. Take a look at his pitch usage percentages from Brooks Baseball throughout the season thus far:
As his confidence in the majors increases, Lauer is going to become more comfortable using all the pitches he has at his disposal. This is a similar theme to what is going on with Lucchesi, so as the season unfold it'll be interesting to see how they both handle the use of what pitches they could potentially throw.
What's puzzling, is understanding what went wrong in his most recent start, after having such a strong outing against the Dodgers in his previous start. First off, his fastball velocity was down from 93-96 versus Los Angeles, to 90-94 when facing Chicago in the last outing. Maybe he was just tired following a long outing, but the velocity being down was disappointing.
Maybe expecting him to sit 93-96 just isn't realistic, but whether he can retain that kind of velocity will be a big question looming in the second half. If possible, Lauer could be a much better pitcher than scouts originally thought as he ascended through the minors. In the case that it was simply a blip on the radar, Lauer will have less margin for error.
These are two young pitchers the Padres should mostly be excited about just because of how quickly they made it to the major leagues. Lucchesi and Lauer's roles on the team in the future will be dependent on how they perform from here on out.
There have been good signs from both of them, so now it's just a question of how consistently the rookies can be as good as they've sometimes shown themselves to be.
The Padres are looking like a team that will have a lot of talented pitching options in the years to come, so guys like Lauer and Lucchesi will likely have to pitch well to be consistent members of the rotation when the talented pitching prospects tentatively surface in the major leagues.
Regardless of what happens, the Padres will have at least a couple young, controllable, and hopefully valuable lefty arms for the next six years. Considering they were only drafted two years ago, it has to be considered a victory that Preller's regime did a solid job developing them.
(Visited 918 times, 1 visits today)