Padres' RHP Austin Adams primed for a breakout campaign in 2021
Acquired in the Austin Nola deal last summer, Austin Adams is looking to have a big impact on the Padres' bullpen heading into the 2021 season.
When the Padres acquired Austin Adams last season at the trade deadline along with Austin Nola and Dan Altavilla, it was clear that they had added a late-inning relief option. The scouting report on Adams sounded similar to many other relievers: A power pitcher with a hard fastball and wipeout slider.
He was included on the Padres' Wild Card and Division Series rosters during the 2020 postseason, which confirmed the team's belief in his abilities. Though it is tempting to say that Mark Melancon and Emilio Pagan, along with Drew Pomeranz, will probably be first in line to pitch the most important innings out of the bullpen — Adams arguably has the highest ceiling amongst the San Diego bullpen arms.
At this point, it is imperative to note that Adams underwent surgery on his left ACL after injuring it at the end of the 2019 season with Seattle. He had yet another on the same ACL this winter and appears to be healthy and ready to go for the 2021 season. The bottom line is that he may have been pitching through pain in 2020, so in many ways, it is difficult to read too much into his numbers from last season.
Nonetheless, there is still value to be found in analyzing his recent performances. The highlight of his season was when he struck out Paul Goldschmidt during the Wild Card Series with his trademark slider:
Clearly, the focal point of his repertoire is his slider, which he threw 83.8 percent of the time last season (Albeit in only four innings pitched during the regular season). In 2019, he threw the aforementioned pitch at a rate of 62.3 percent while mixing in a four-seam fastball across 32 innings pitched. It makes sense that Adams throws his slider as often as he does; hitters only managed to hit .214 off the pitch last season. However, that was only in a small sample of sixteen plate appearances. Take a look at some of his 2019 numbers with the Mariners:
| | | | | | | | | | |
| --- | --- | --- | --- | --- | --- | --- | --- | --- | --- |
| Games | Innings Pitched | K/9 | BB/9 | HR/9 | Avg EV | ERA | FIP | xFIP | WAR |
| 29 | 31.0 | 14.81 | 4.06 | 1.16 | 89.8 | 3.77 | 2.96 | 2.50 | 0.8 |
These statistics indicate that Adams can strike out many hitters yet also allows his fair share of walks. Based on his FIP and xFIP numbers above, Adams was a very effective reliever for the Mariners throughout the 2019 season. He did not pitch very many innings during the 2020 season, yet he still showed that his stuff plays well against major league hitters in his brief four innings in the regular season for the Padres. He pitched another 1.2 innings in the playoffs, in which he had an ERA of 4.50 with one earned run allowed.
In 2020, Adams relied upon his Slider more often than ever before. Throughout the 2020 Postseason, he increased his pitch usage even further, and 34 of his 35 pitches thrown in the playoffs were Sliders. According to Statcast, Adams only threw one fastball in the playoffs! To be clear, this is a great example of modern pitching. It is very smart of Adams to realize that his slider is his best pitch and that he can rely upon it in any count.
It is reasonable to expect him to throw his fastball with greater frequency in 2021 to keep hitters honest while still maintaining his slider as the feature pitch in his arsenal. His bread and butter is the slider, and he illustrated that he can throw different variations of it throughout 2020 with the Padres. While his slider typically sits in the 2700-2750 RPM (Spin Rate), Adams has shown the ability to throw his slider above 3000 RPM as well.
Adams throws a hard slider, which usually sits around 87-88 MPH, but he also can throw a more frisbee-esque slider like the one he threw Paul Goldschmidt at 85 MPH in the GIF shown earlier. Here is a slider he threw which was measured at 3017 RPM: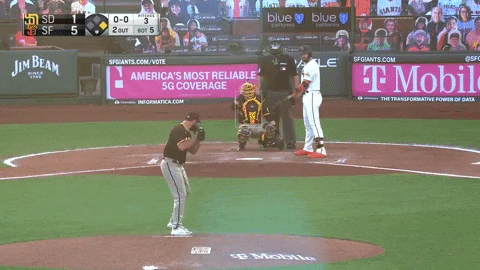 So while Adams is seen as a two-pitch guy in many ways, that is not necessarily true. He is throwing two different sliders, which is an important distinction to make regarding his pitch mix. In the same series with the Giants, he threw a pitch labeled as a fastball by Statcast, but which also appears to have slider-like action. Furthermore, this pitch had an RPM of 3590:
It's certainly an anomaly amongst the other sliders he threw in 2020 but illustrates the potential he has as a reliever for the Padres. Though he is 29, he still has the potential to improve. In 2021, Adams can take the next step towards becoming an elite back-end liever by manipulating his slider creatively the way that he has flashed the talent to do so over the past couple of years.
It's also key to note that he will be fully healthy moving into this season, and therefore Adams has a shot at having his best season yet. As the Padres begin a season in which they are expected to compete for a World Series, their bullpen will need to be strong in finishing out games behind the loaded rotation they assembled through a series of blockbuster trades carried out by legendary GM A.J. Preller.
Adams is one of the slightly overlooked relievers on the Padres' roster. That is unlikely to be the case later this season, as Adams' slider and its potential variations have the potential to cause fits for opposing hitters. Similar to Brad Hand's slider and Kirby Yates' splitter, Austin Adams possesses a highly effective pitch in his slider, which will allow him to become the next great Padres reliever.
All data in this article is from FanGraphs and Statcast.
(Visited 640 times, 1 visits today)
A sophomore at Willamette University in Oregon, Conrad is majoring in Spanish but is also a writing center assistant for other students at Willamette. He has been a Padres die-hard his whole life and hopes to bring comprehensible statistical analysis to the site.