Despite a slow start to the season with the Padres, Manny Machado has returned to being the superstar that San Diego signed earlier this year. The way he's currently playing will result in him being well-worth his admittedly hefty $30 million salary in 2019. It's crystal clear he is the face of the franchise and best player on the field for the Padres. 
It was pretty worrying to see Manny Machado struggle at the start of the 2019 season, especially after the excitement surrounding his signing. Almost halfway through his first year in San Diego, things have started to change for the superstar third baseman. Let's take a look at how his statistics really turned around in June after a rough couple months to start the year:
March 28 – May 31:
June 1 – Present:
Clearly, he's stepped things up and is playing at the level many expected when the year began. The numbers above tell us enough to see that — Machado has hit for average and power at significantly higher levels in June than he ever did previously in 2019.
What's been behind this change, though? If we look at his batted balls, we can see that he's hitting the ball the other way with more regularity in June. This has been key to him getting back on track, as illustrated by these spray charts of his hits. This shows us how much more often he's gone the other way for hits of late: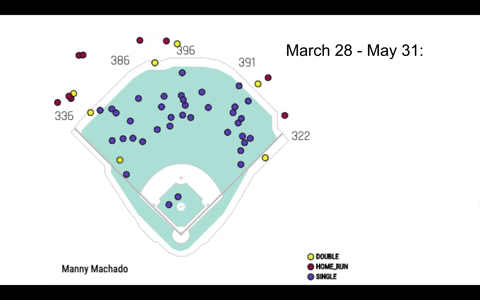 It's been important for him to be using the whole field when he hits because he's largely been pitched away this season. His quality of contact has also increased — Machado has seen his average exit velocity on hits increase from 97 mph to 98 since the beginning of June. He's also swinging at pitches he can drive to the opposite field more often in June, which has allowed him to get his hands extended and get to more of his power.
Let's take a look at the pitches Machado has swung at during the early part of the season, compared with those he has swung at in June:
This is interesting because Machado has actually swung less often at pitches near the very heart of the plate, yet has found more success driving pitches over the outer half of it. Based on the results, it's hard to argue with his approach at this point in time.
Three weeks ago, I suggested that the primary reason for Machado's struggles at the plate was his rise in pop-ups:
"This number of pop-ups is the highest Machado has ever posted in his career, which is likely due to him pressing in his first year with the Padres. If he can stay within himself and work on hitting more line drives, Machado can be more successful as a hitter."
What has Machado done since then? Lowered his number of pop-ups, of course! So that's been another reason for his improvement of late, as his infield fly ball rate was 18.5% through May 31. In the month of June, that figure is down to 13.0%. To better understand how Machado has improved his plate discipline in June, let's look at some of those numbers:
This has been another big factor in Machado getting back on track. As we can see, he's improved in every single plate discipline statistic. He's swinging less at the wrong pitches, swinging more at the right pitches, and making contact with them more often. As a result, Machado is making harder contact and has been more successful at the plate.
The last week has seen the Padres' superstar third baseman outpace every other player in the major leagues with 0.9 WAR. What's been arguably even more impressive has been his improvements throughout the entire month of June. His defense was fantastic all year, but now his bat is coming around and beginning to produce. While it may be tough for the Padres to make the playoffs in 2019, having Manny Machado produce as he usually does will go a long way towards improving the team's chances of ending their playoff drought.
Throughout his career, the 26-year-old has produced the 11th-highest WAR figure among all active major leaguers. Now that he has rounded back into form for the Padres, it'll be intriguing to see if he can improve upon his career high of 6.6 WAR back in 2015. As San Diego's youngsters begin to develop into more established major leaguers, Machado has a very real chance to be even better than he has been previously. Considering that he's a veteran player who still should have many good years left because of his age, that wouldn't be very surprising. For now, it's just been a relief for the Padres to see him get back to being the Manny Machado they guaranteed $300 million.
(Visited 727 times, 1 visits today)