An Analysis of Padres Possible Trade Target Marcus Stroman
Taking a closer look at Marcus Stroman, who is rumored to be a trade target of the San Diego Padres in their quest to gain relevant starting pitchers.
Recent rumors surrounding a trade between the San Diego Padres and Toronto Blue Jays, in which Marcus Stroman would be acquired by San Diego, have been swirling.
Let's take a look at Stroman statistically, and analyze his pitching to better understand him as a pitcher.
Following a rather disappointing 2018 campaign with the Blue Jays, is Stroman a strong buy-low candidate for the Padres this offseason?
We know the Padres need help in their rotation, especially if the team is going to be competitive in 2019.
While the lineup was a serious issue in 2018, the rotation was even more disappointing for San Diego. Now, the possibility of the Padres trading for Marcus Stroman has become a significantly more compelling discussion.
Considering this report of Jon Morosi on Twitter:
Sources: #BlueJays, #Padres are discussing a Marcus Stroman trade. Here is the story: https://t.co/UG9UekUgh1 @MLB @MLBNetwork

— Jon Morosi (@jonmorosi) December 22, 2018
One of the shortest pitchers to take an MLB mound at 5-foot-8, Stroman is a pitcher whose impressive stuff illustrates the irrelevance of height for pitchers. He pitches with emotion and is a passionate player, even when he's not playing in the game. Remember the Jose Bautista ALDS bat flip home run? Of course, you do! Stroman was more excited than anyone about Bautista's homer: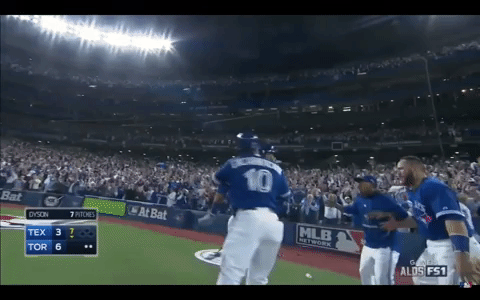 Amid the crazy excitement of this famous moment in baseball history, Marcus Stroman is relishing every second of it, which we have to admire. Clearly, he's a fierce competitor who wants to win, which is also evident in his pitching. Before we analyze the numbers on Stroman, let's just recognize that he would be a strong personality in the Padres' clubhouse, and on the field, in San Diego, if acquired. He's definitely a guy who is marketable and can also excite the fanbase with his enthusiasm.
As far as team control goes, Stroman is only controlled through the 2020 season, which means the Padres would only surely have him around for another two years. Currently, the team does not appear ready to contend in 2019, even with Stroman leading the pitching staff. Here's a chart illustrating his season fWAR totals by season, over the course of his career with the Blue Jays:
Let's keep in mind that Stroman was injured for the majority of the 2015 season, and thus didn't have much of a chance to better his fWAR during that year. He peaked at 3.5 WAR in 2016, and it seems like his true talent level is around a 3-WAR pitcher at this point. Considering that he only pitched in nineteen games last year, we can assume that he would have produced more than the 1.5 fWAR figure he put up. Nonetheless, his inconsistency in performance is not reassuring for his future, nor does it likely increase the Padres' interest in trading for the right-hander.
We need to understand the specific ways in which Stroman is valuable and identify his strengths as a pitcher. From there we can figure out why he wasn't as valuable last year, which involves figuring out why he struggled to utilize his strengths on the mound. This will give us a much stronger idea of what to expect from him moving forward, and form a more substantive opinion of him as a player. Let's start with what he's done well in the major leagues, as illustrated by the highlighted values in his career statistics:
When Stroman is at his best, he's pitching over 200 innings, walking at or less than two batters per nine innings, and inducing many ground balls.
Clearly, Stroman's ability to generate ground balls is a skill that allows him to pitch more innings than many other pitchers. His high number of innings pitched during the 2016-17 seasons, provided the Blue Jays with 6.8 fWAR in value. As we can see from his FIP values above, Stroman pitched only slightly worse last season, in comparison to previous seasons in which he accumulated more fWAR. Aside from walking more hitters, Stroman largely was more unlucky on batted balls and didn't get as much help from his defense in 2018. For the most part, there is little to worry about with regard to his most recent campaign.
If Stroman is healthy for a full season, he could be a highly effective pitcher for the Padres. Clearly, his stuff is special, and he is capable of being a top of the rotation-type starter. Take a look at this visual of his sinker, which is the primary pitch he uses to generate ground balls: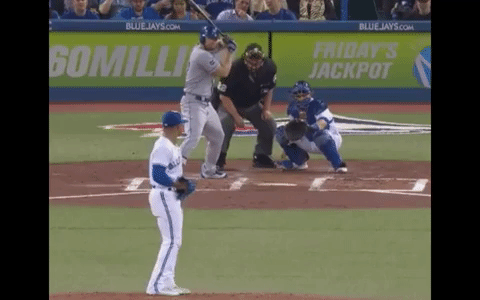 When watching Stroman throw this pitch, it's hard not to think this is a changeup, yet it's really a sinker. It's exactly the kind of pitch a ground ball artist like Stroman should have, in order to induce groundouts. The high number of ground balls he has induced have caused him to allow very few home runs. His ratio of homers allowed per nine innings in 2018 was 0.79, which is highly impressive. Considering that Petco Park is more pitcher-friendly than the Rogers Centre, we can expect that Stroman could have an even lower rate of home runs allowed per nine innings.
Considering the quality of Stroman's stuff, along with his sabermetric results, we can be confident in his ability to pitch at the same level he did from 2016-17. His FIP, for example, was almost exactly the same number in 2018 as 2017. With this knowledge in mind, we can be fairly confident in saying that Stroman will have a markedly improved 2019 season. Plus, he would be working with pitching coach Darren Balsley, who has helped countless pitchers regain their old form with the Padres over the years. Now it's just a matter of who the Padres give up in a trade for the 27-year-old right-hander.
(Visited 1,576 times, 1 visits today)